BEST AND EASIEST PRUNE PLUM PIE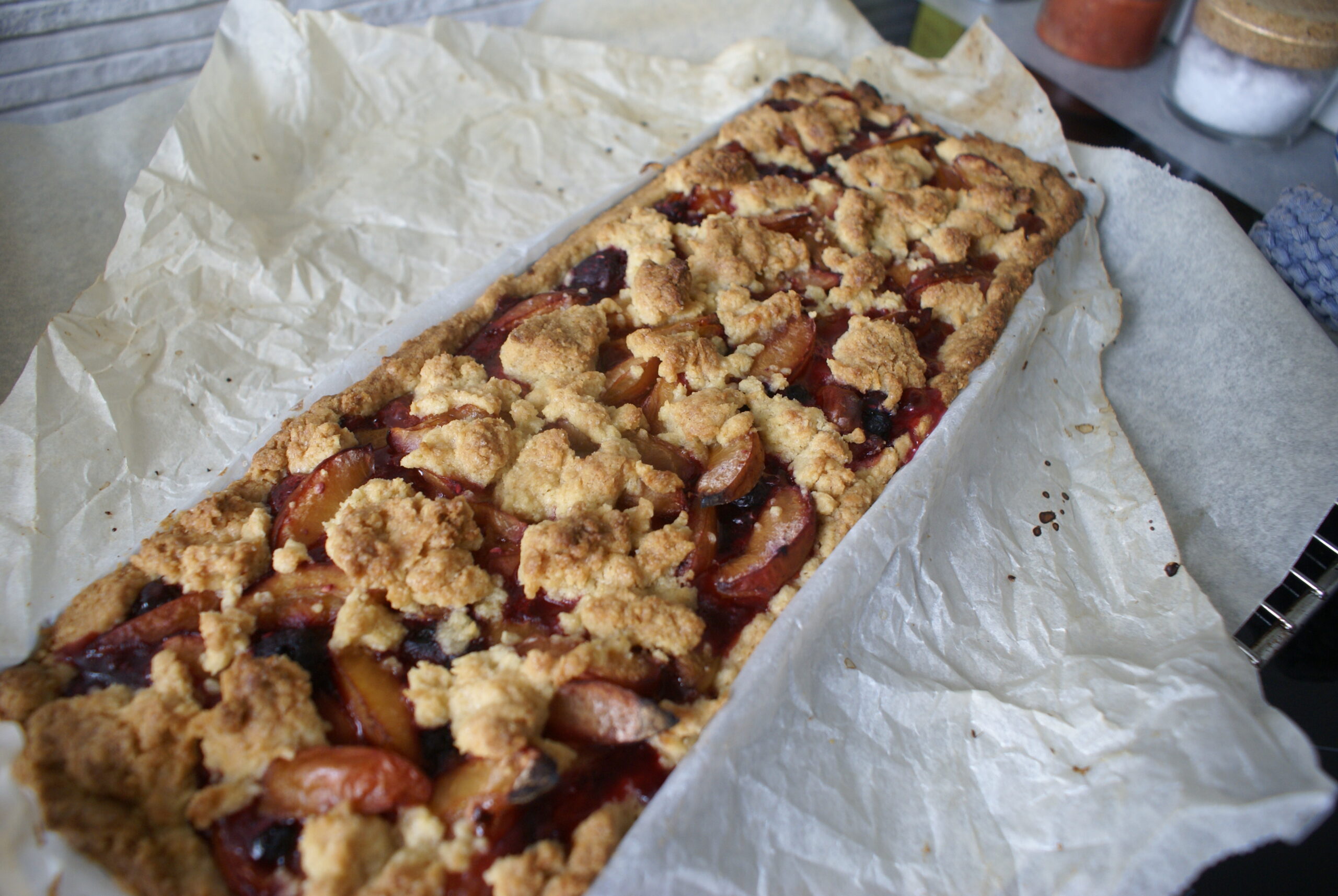 Say that three times fast 🙂
Hi and welcome back everyone! As you have seen, I have been on a hiatus, not only from blogging and writing, but also from baking.
Not that I was very active before that, but starting in August of 2020, I started a low-carb diet for anti-inflammatory purposes, to see if the pain/numbness in my body would get better. Low carb, no sugar = no baking. I'm still on the fence if the low carb diet helped my body, but now I am re-introducing butter and sugar into my diet anyway – mostly because I also want to live a little. And working with butter and sugar is my happy place. That is also worth something, folks! Bottom line – eat mostly healthy, but don't deprive yourself of what brings you joy!
Having said that, the process of baking brings me even more joy than eating the final product, so here I am, filling up my freezer one baked good at a time.
In August I was gifted a big bowl of red currants. And since they don't keep, and don't freeze well (I must admit that I haven't really tried freezing red currants), I decided to make a pie. I adooooore pies. There is just something so deliciously decadent about a pie. Any pie. So it started with a Swiss Quark and Berry pie (in German), then the ice was broken the oven was warm, and it snowballed from there. I WAS BACK!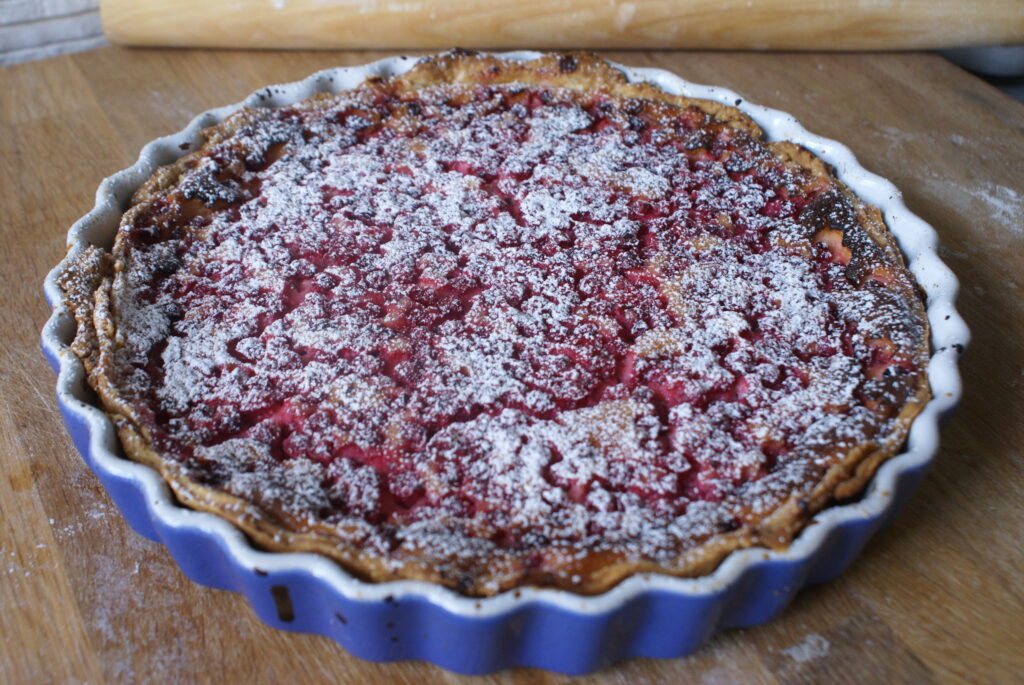 But the recipe I wanted to share in my  inaugural Substack newsletter (see below) is the recipe I discovered after the one above. Because again, I was gifted a big bag of prune plums, and was on the lookout for a recipe. And boy, did I fall in love with this recipe, and have made countless variations since.
Let's get to it, shall we?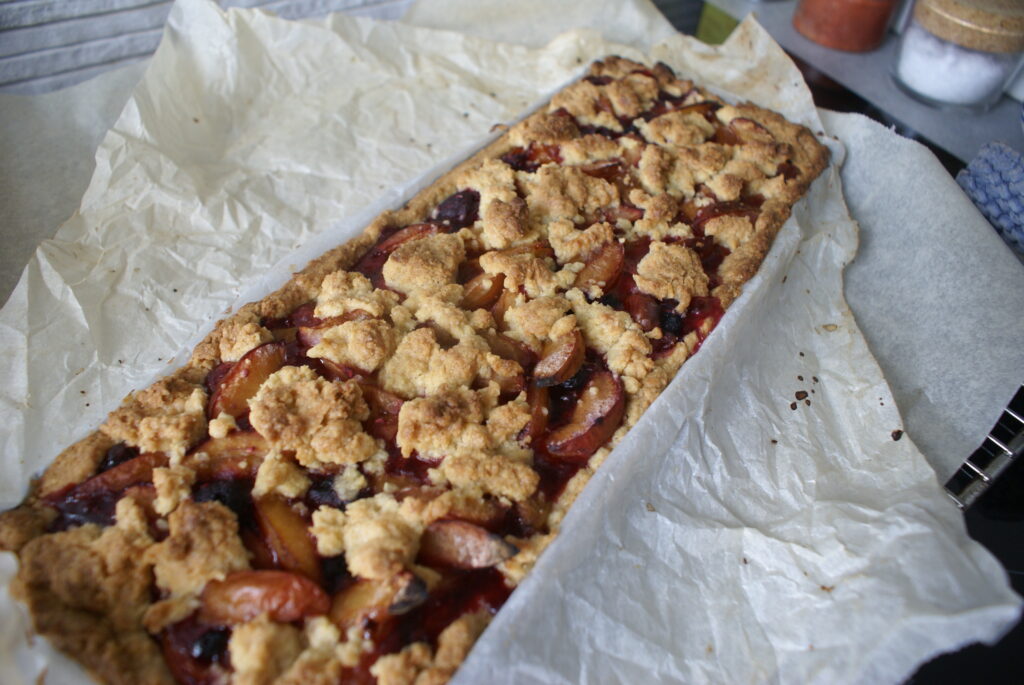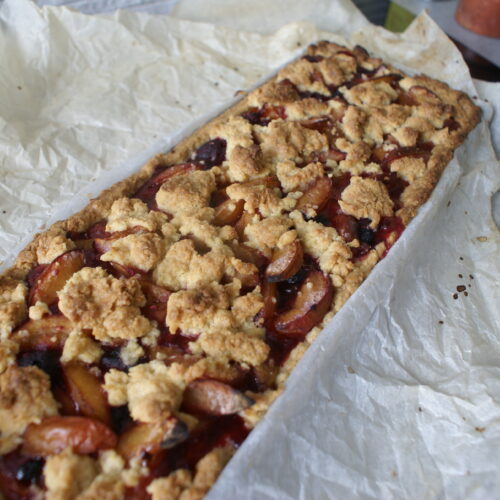 PRUNE PLUM CRUMBLE PIE
This quick and easy prune plum crumble pie is so so delicious and versatile. Make it exactly like mine, or make it your own!
INGREDIENSER
Ingredients for the base and the crumble
240

grams

all purpose flour

1/2

teaspoon

baking powder

pinch

of salt

160

grams

butter

cold, cubed

100

grams

light brown sugar

*

1

teaspoon

vanilla or vanilla sugar

1

egg yolk

1 1/2

tablespoons

ice water
Ingredients for the filling:
3-4

tblspoons

prune plum jam

optional

300

grams

prune plums

de-stoned, sliced

1-2

tablespoons

sugar

1

tablespoon

corn starch
FREMGANGSMÅTE
Method for the base and crumble:
Add flour, sugar, vanilla, pinch of salt and butter to your food processor and pulse until it resembles corse crumbs

Add your mixture to a medium bowl and make a well in the middle.

Mix your egg yolk well with the ice water and add it to the flour/butter/sugar, and mix until the dough comes together.

Dump 2/3 of your dough onto your pie tin. I always use parchment paper for easier cleanup.

Press the dough down to the base and up the sides of the tin.
Method for the prune plum filling:
add the prune jam to the base of the pie if using

add sugar and corn starch to the sliced plums and let macerate if you have time
Assemble:
Add the plum mixture to the base and crumble the rest of the dough over it

Bake at 180°C, at the lowest level of your oven, for 40-45 minutes, or until golden brown.

Let cool, and dust with icing sugar before eating

I love to eat this with soft whipped cream
*I have also used all white sugar and a mix of dark brown and white sugar for this recipe – use what you have!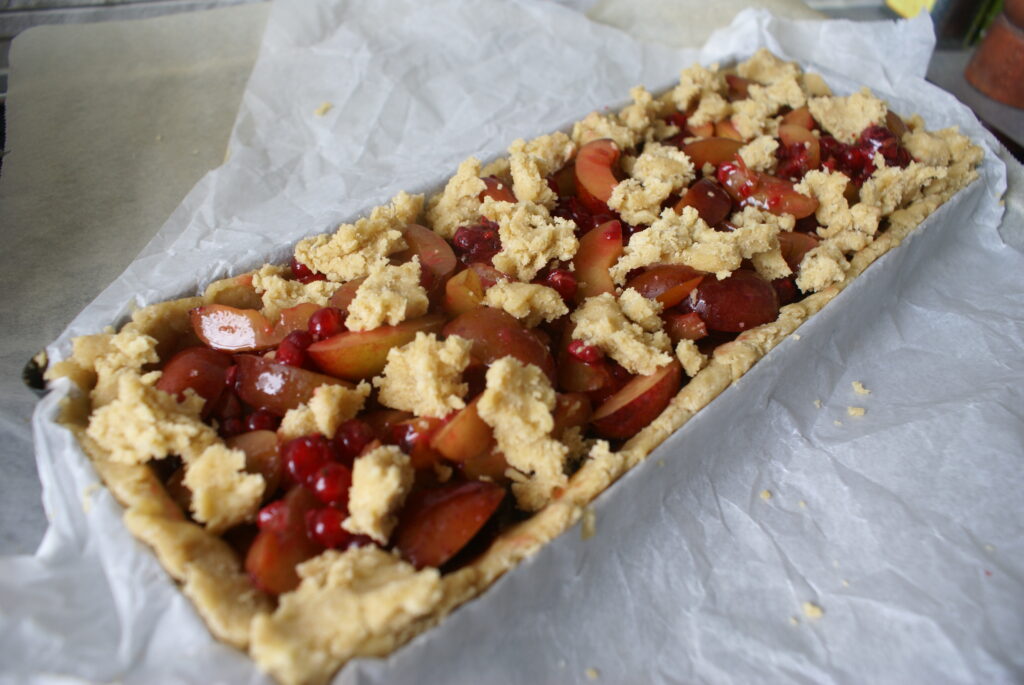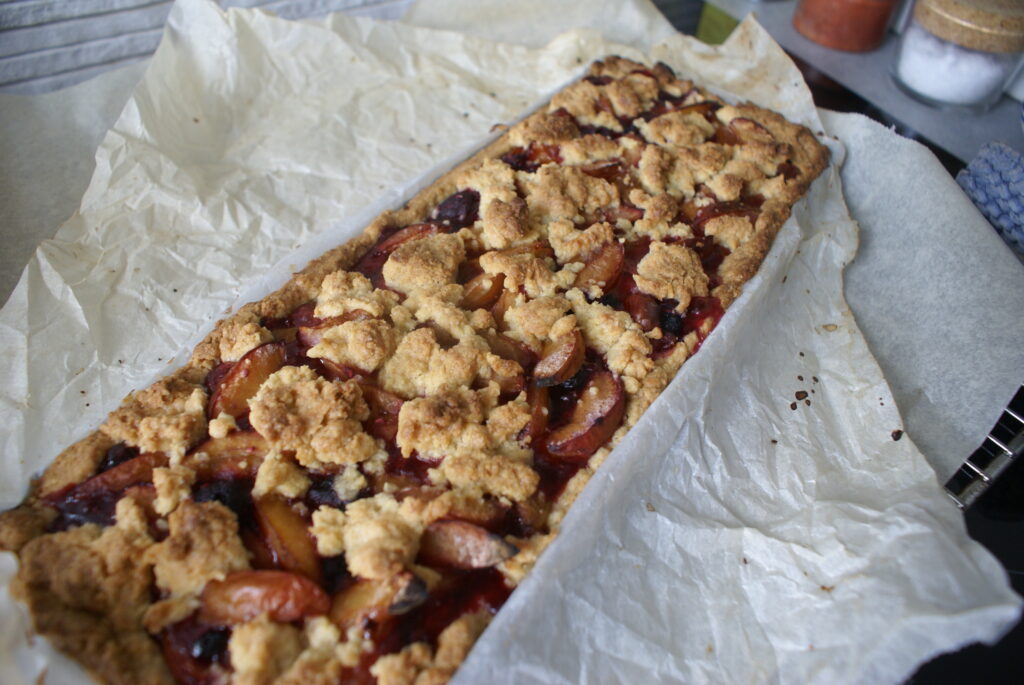 In other new – I made a Substack account, and will occasionally send out newsletters 🙌.
Find this post on Substack via this link
or
Until next time – stay serene & keep baking

---